About Us
The SSP Store products are created and all orders fulfilled by Albuquerque, New Mexico's Black Duck Inc.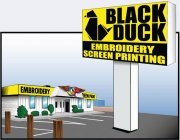 We are New Mexico's screen printing and embroidery headquarters!
In business for over 25 years, Black Duck combines steadfast values with experienced and talented staff in a shop boasting four automatic and five manual presses and 64 computerized embroidery heads to create one of the Southwest's largest and most capable apparel decoration firms.
Featuring award-winning in-house art and digitizing, and complete finishing and fulfillment capabilities, Black Duck can take any project from concept to completion under one roof.